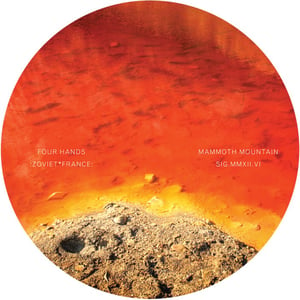 £

5.00 - On Sale
[SIG.MMXII.VI]
Four Hands / :zoviet*france - Mammoth Mountain 12" Ltd Clear Vinyl
A1 - Four Hands - Sea of Love (Mammoth Mountain mix) (07:48)
A2 - Four Hands - November 2011, North Northumberland (:zoviet*france: dub) (8:49)
B1 - Four Hands - Mountain of Mammon (:zoviet*france: version) (12:56)
After the debut release of the excellent track Hizou on the Claremont 56 label last year comes another outing from the
enigmatic Newcastle outfit Four Hands.
Working with original material from the Manchester based experimental producer caro snatch, Four Hands creates a subtle and beautiful, cinematic piece of work that tugs at the heart strings like some long forgotten adriatic getaway.
Taking the Four Hands mix as a source the cryptic and hugely influential group :zoviet*france: offer a very rare appearance on vinyl with two mixes that bring the listener right back to the sublime and epic landscape of North Northumberland.
A limited press on clear vinyl this 12" provides a deep and moving listening experience.
Please read
IMPORTANT Shipping Information
before you purchase